How digital products (e-goods) work
The shopping and checkout experience for digital products is no different from any other product in your store. To fulfill digital product orders, Ecwid sends a link for download to your customer by email. Customers can also download any purchased products from the order details page in your store.
Ecwid sends a notification with the download link only after payment.
Digital products are available on paid plans with premium plans supporting larger files. The file size limits for Ecwid plans are:

Venture – 100MB
Business – 1GB
Unlimited – 10GB
There is no limit for the number of your e-goods or their downloads, so you can upload and sell as many as you need.
Adding a digital product
To add a digital product:
Go to Ecwid Control Panel → Catalog → Products.
Click a product to edit or create a new one.
Open the Files tab: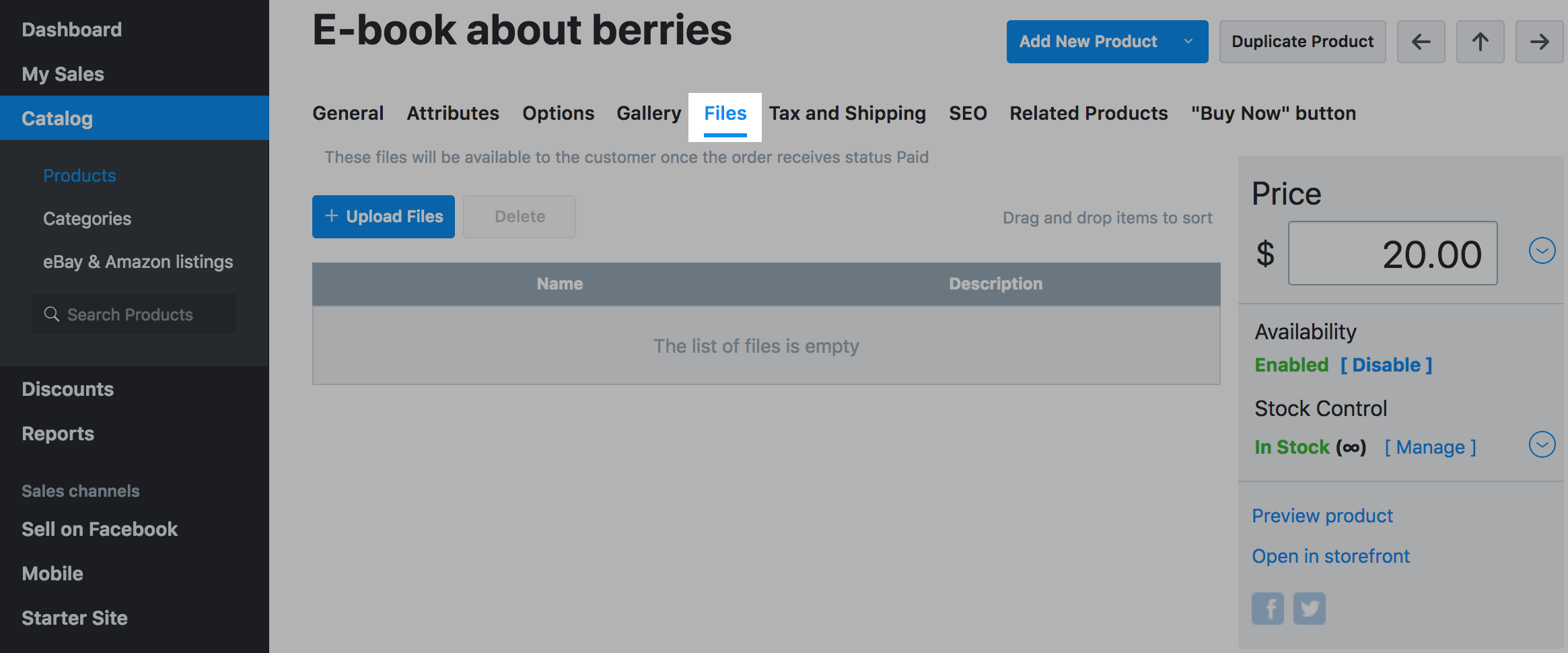 Click +Upload Files.
In the popup click Choose file: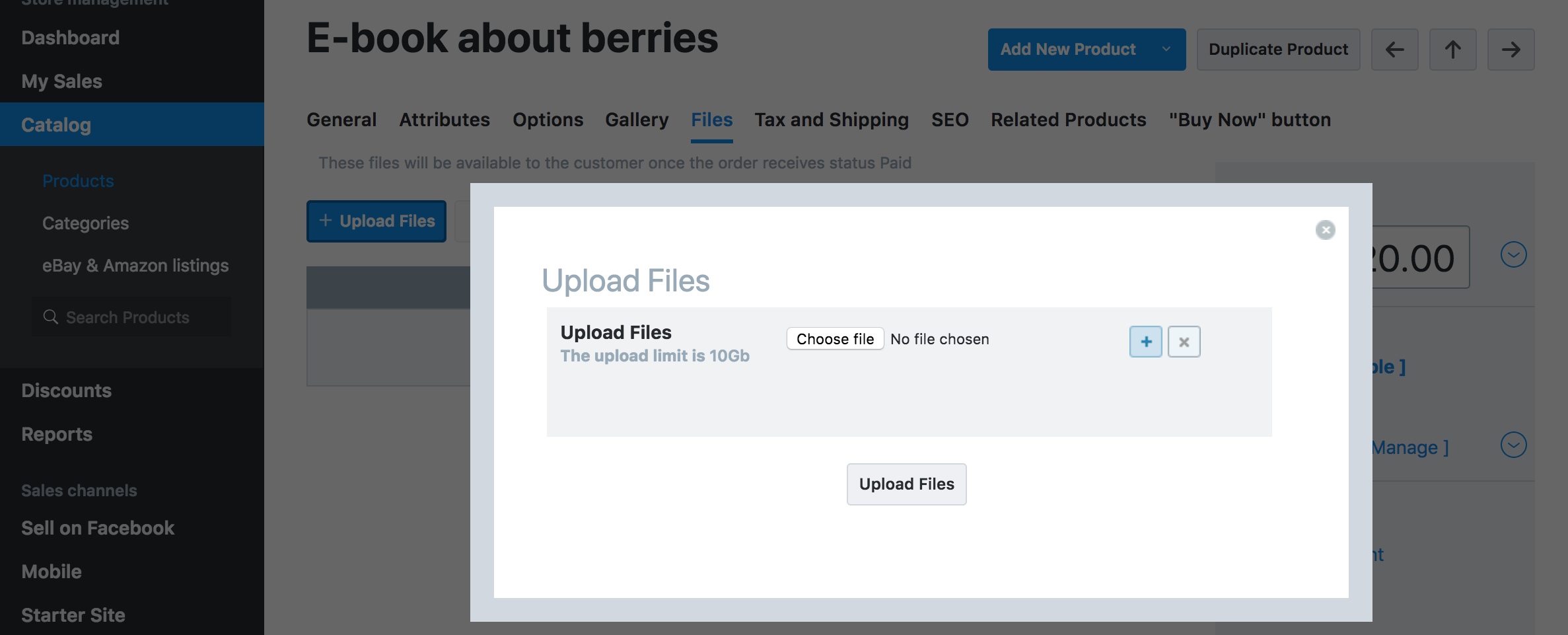 Select the file on your computer. 
Click + to add more files.
Click Upload Files.
Enter file description: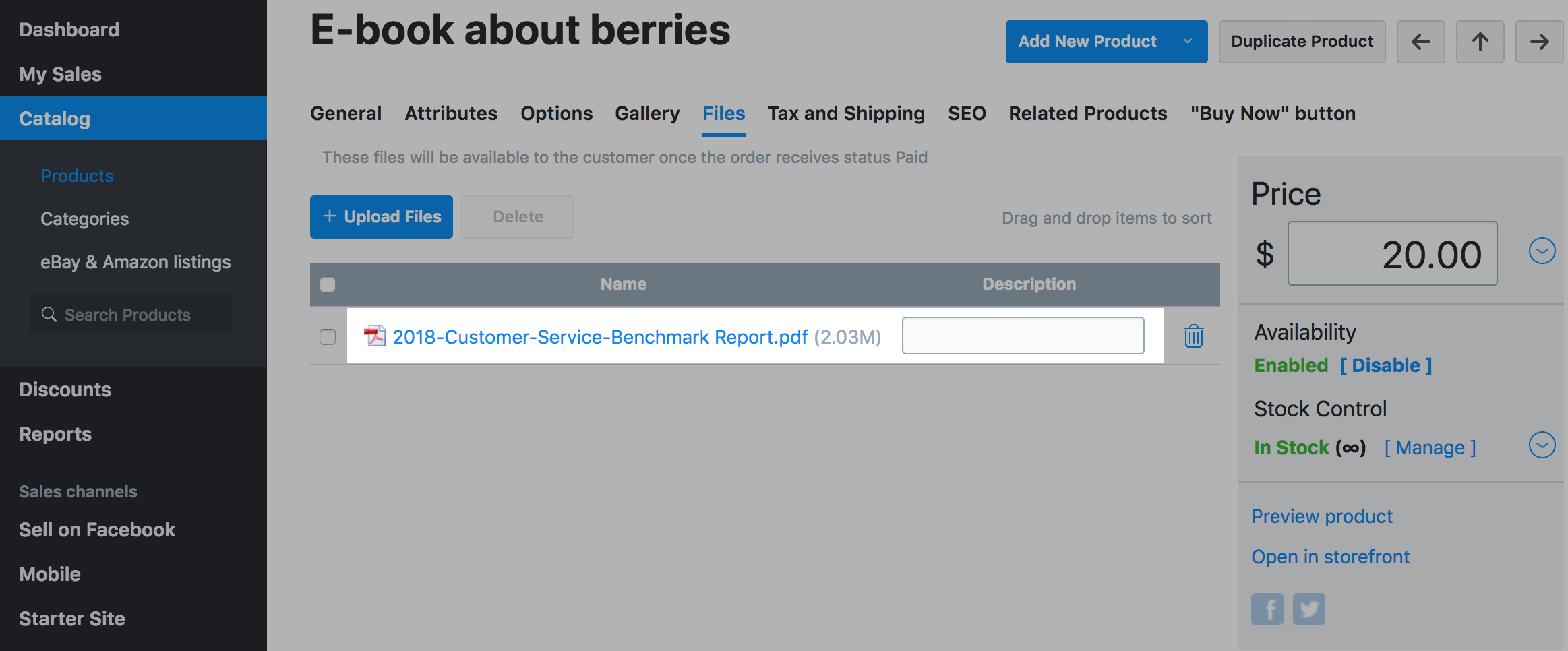 Click Save.
Your customers can access digital products only after purchase.
Protecting download links
You can prevent customers from sharing download links in two ways:
Set a lifetime for the link – this ensures the link will automatically expire after a specified period of time.
Limit the number of downloads per link – this ensures customers will only be able to download the link a specified number of times.
Examples:
Lifetime is 24 hours, number of download attempts is empty: the link is available for 24 hours only, with unlimited number of downloads;
Lifetime is empty, the number of download attempts is 5: the link is available without any time limits, but can be downloaded 5 times per order only;
Lifetime is 48 hours, the number of download attempts is 3: the link is available for 48 hours and can be downloaded 3 times per order.
To set these limits:
Go to your Ecwid Control Panel → Settings → General → Cart & Checkout.
Scroll to to the E-goods section: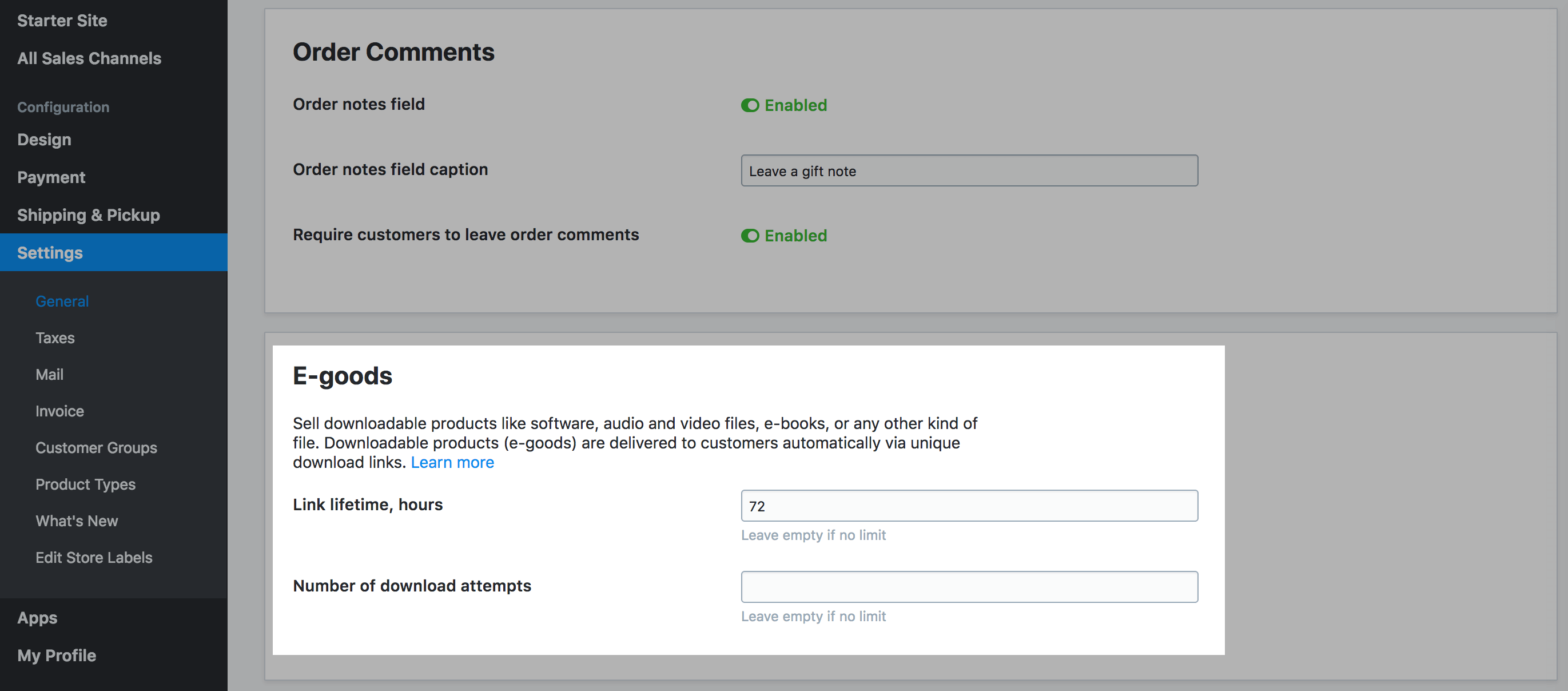 Set the limits:
Link lifetime, in hours
Number of download attempts
You can set one of the options or both of them at the same time or any of them.
The store administrator can manually regenerate or terminate any link in the Order details page. Regenerating a link will provide the customer with a new download link while forced expiration immediately renders a link useless.
Selling digital products brings a layer of complexity to your online store. Here's a brief collection of the most common questions to help manage, promote, and sell digital products.
FAQ
How can I customize the email with download links?
You can modify the notification sent when your customers purchase a digital product in Ecwid Control Panel → Settings → Mail.
Read the article on Mail Notifications for more information.
How to offer free promotional e-goods?
There are two ways to offer digital goods for free:
First way
Create a product with zero price.
Attach a file to it under the Files tab.
Your customers will add this product to cart, place an order and get download links without paying anything.
To make the process for these free orders more smooth, we recommend to enable the Skip payment method selection, if the order total is zero option and to make your store automatically set the Paid status for free orders. This way your customers will instantly get download link after placing an order.
Second way
You can attach a file to a product by adding a download link directly to the product description. In this case, a visitor doesn't have to place an order – they can download the file right from the product page. How to do it:
Upload your file to any hosting. For example, you can use SaberCat, it's free
Add a link to this file to your product description.
If you use this way, you will not see the downloads in the orders list.
What happens if a customer's download is interrupted?
If your customer has any connectivity issues, the file will automatically continue its download once the connection is reestablished.
This works only if you do not limit the number of downloads.