You can accept payments in Ecwid using Square online payment gateway. As a major payment provider, Square is available in the USA, the UK, Canada, Australia, and Japan and accepts each country's currency. Customers can enter their credit card details right on your store's checkout page, making the checkout process easier and faster.
If you want synchronization across your online (Ecwid) and offline (Square) inventory, please review the Square POS article.
Why choose Square
Here is the list of benefits that you get by choosing Square to accept credit card payments in your online store:
Account creation and verification takes minutes. You do not have to visit a bank to open a merchant bank account. So you can start taking payments via Square gateway right away.
No hidden fees. You pay only when you make a sale. You can learn more about transparent Square pricing.
Payments are secure out of the box. Square is PCI Level 1 compliant and all card-present payments are encrypted from end to end.
Prevention of fraud. Square fraud prevention team watches over your account security 24/7 using live monitoring programs and will notify you if they suspect something unusual. You can also enhance the security of your Square account by enabling 2-factor authentication, account change notifications and adding employees with limited permissions.
Easy management of payment disputes. As with any transaction, there is always a risk that a buyer will dispute the purchase. You can send to Square team necessary information regarding a payment in question via your Disputes Dashboard and they will fight dispute on your behalf. Square offers a free Chargeback Protection for all sellers which covers chargebacks that are $250 or less (up to a total of $250 a month).
Setup
To accept credit cards using Square, you need to enable Square in Ecwid's Control Panel.
Connect Square in your Ecwid Control Panel
Go to Ecwid Control Panel → Payment.
Find Square under Add new payment methods: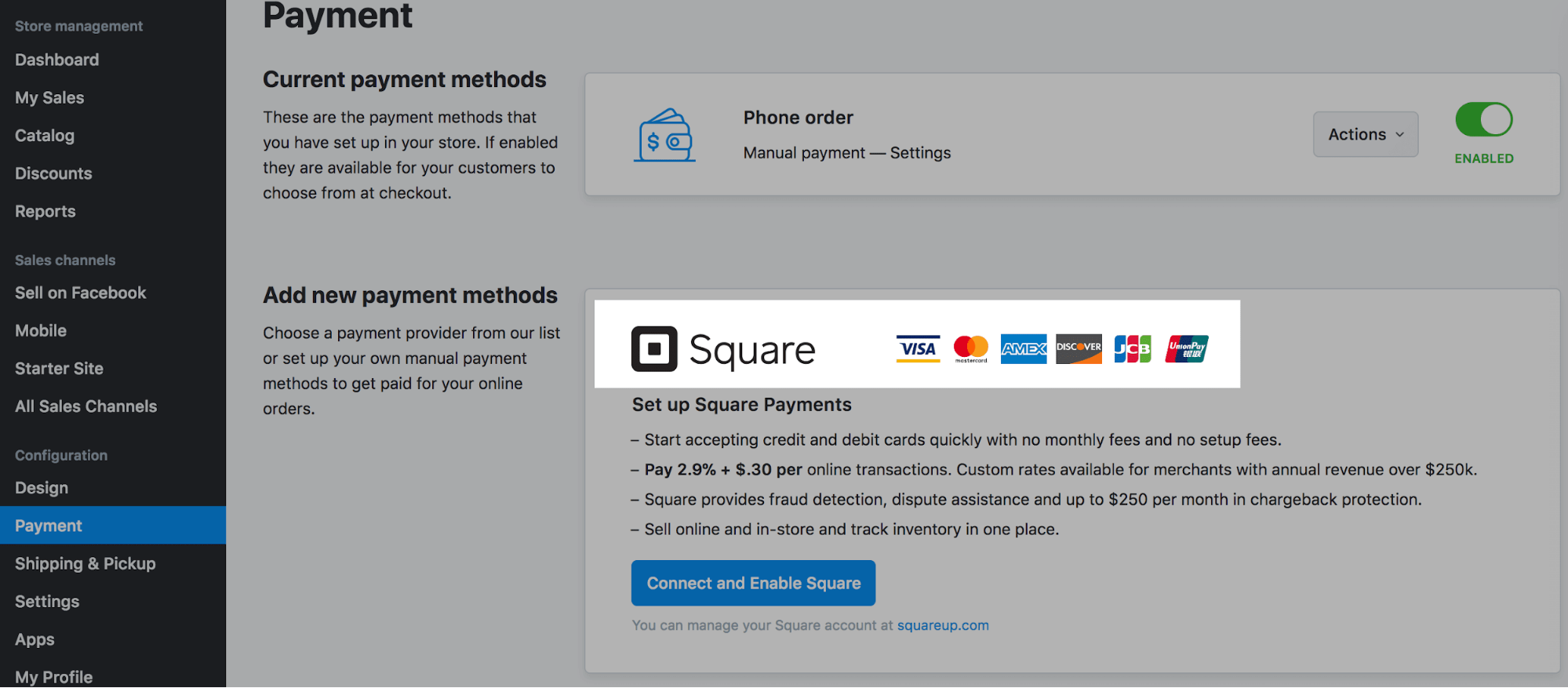 Click Connect and Enable Square:

Ecwid redirects you to Square. Login and connect your account.
Activate your account to process real transactions
You must activate your account to accept credit cards. To do so, Square requires basic information about you and your business. You can start accepting credit cards online as soon as Square activates your account!
Make sure the Square gateway is enabled in Ecwid Control Panel → Payment. Even if the Square payment gateway is configured in Ecwid, customers will only see this at checkout if the gateway is enabled.
If you need to connect another Square account, disconnect your store from Square in Ecwid control panel → All Sales Channels → Square, then remove Square as payment method in Ecwid control panel → Payment and connect your store to another Square account.
Transaction fees
Square takes a fee of 2.9% + $0.30 for processing your payments.
Managing orders
All orders paid via Square appear in Ecwid Control Panel → My Sales → Orders. They contain a link to the corresponding transaction in Square.
Orders also appear in your Square Control Panel. Square retains the customer's data, their order, and information about shipping and taxes.