You can sell products from your Ecwid store by tagging them on your Instagram posts. When you showcase your products on Instagram, customers can tap on your product tags to check the item's pricing and details. Tagging Instagram posts with your products also provides a direct link for customers to purchase the product in your online store.
Shopping on Instagram
Shopping on Instagram provides access to Instagram's platform through Facebook. With this feature, you can tag photos on Instagram with products from your Facebook shop catalogue and provide more information when your customer taps on the tag. This feature helps you share product details, pricing, and a direct link to your store where customers can complete their purchase.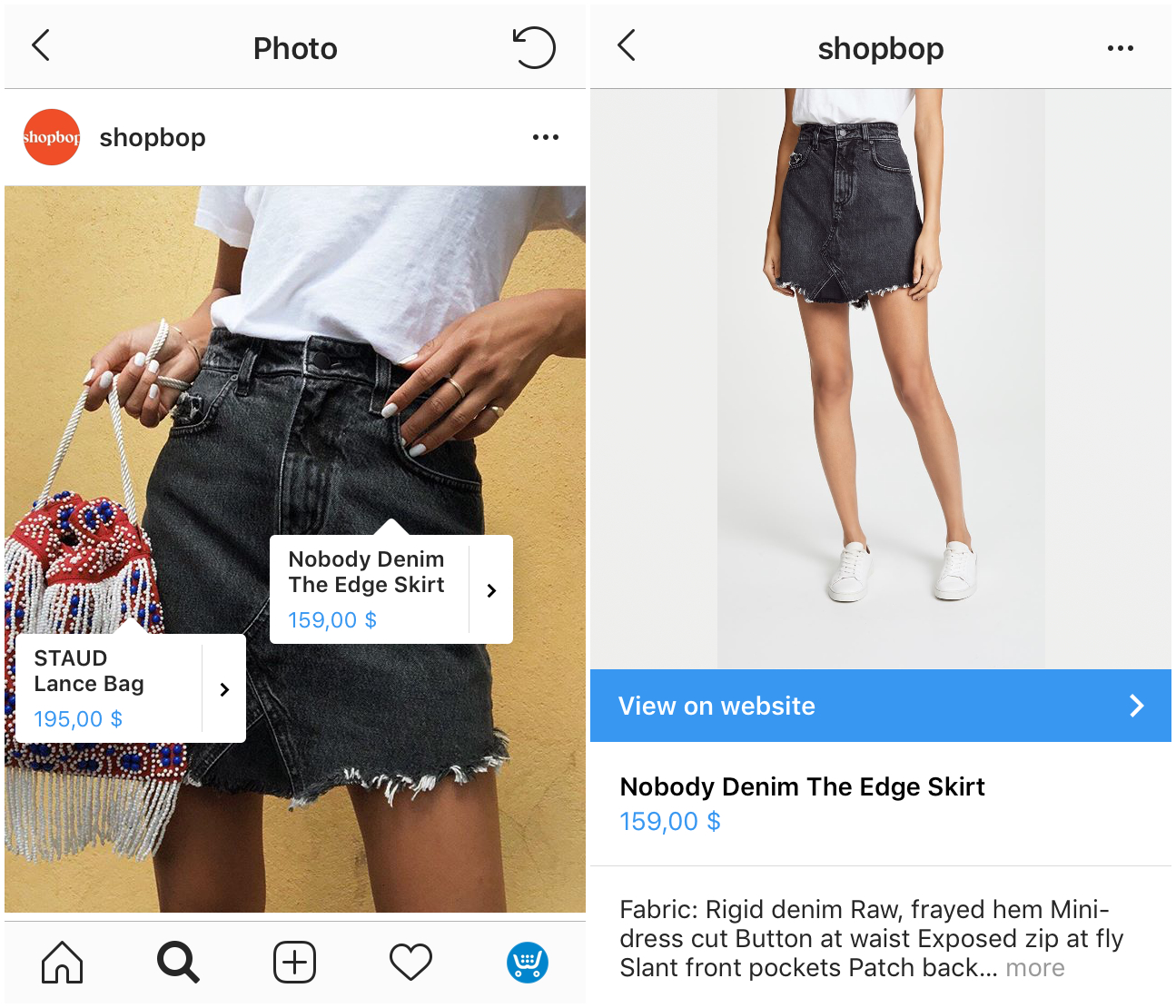 Check our quick video about shopping on Instagram:
Tapping the product tag from your post provides the following information:
The product's image from your site
The product's description
The product's price
A link to purchase the product on your website
You can tag posts with up to 5 products per image or 20 products per carousel.
After publishing 9 shopping posts, businesses receive a persistent Shop tab on their Instagram business profile. This allows customers to easily view all posts with tags from your account.
Access Shopping on Instagram
Instagram establishes a few parameters to sell on Instagram with Shoppable Posts:
To successfully connect your Ecwid store to Instagram: 1) add your store to Facebook, 2) make your Instagram account a business profile, and 3) connect Instagram to your Facebook page. Once complete, Instagram will review your account before granting access to the feature.
Step 1. Add your products to the Facebook shop
If your physical products comply with Facebook Commerce Policies and you already have a Facebook business page, uploading your products will be a breeze.
Step 2. Connect your Facebook catalogue with your Instagram profile
Click Connect Instagram in Ecwid Control Panel → All sales channels → Sell on Instagram: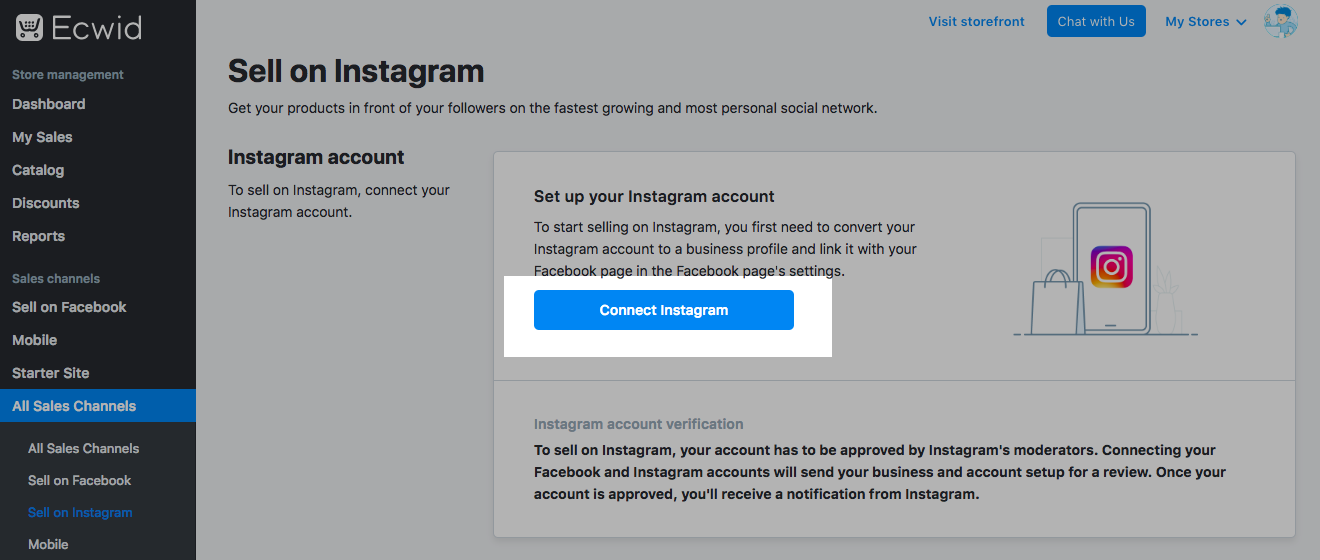 Next, you'll need to link your Instagram account with your Facebook profile. While in your Instagram account, you will also be able to update your account to a business profile.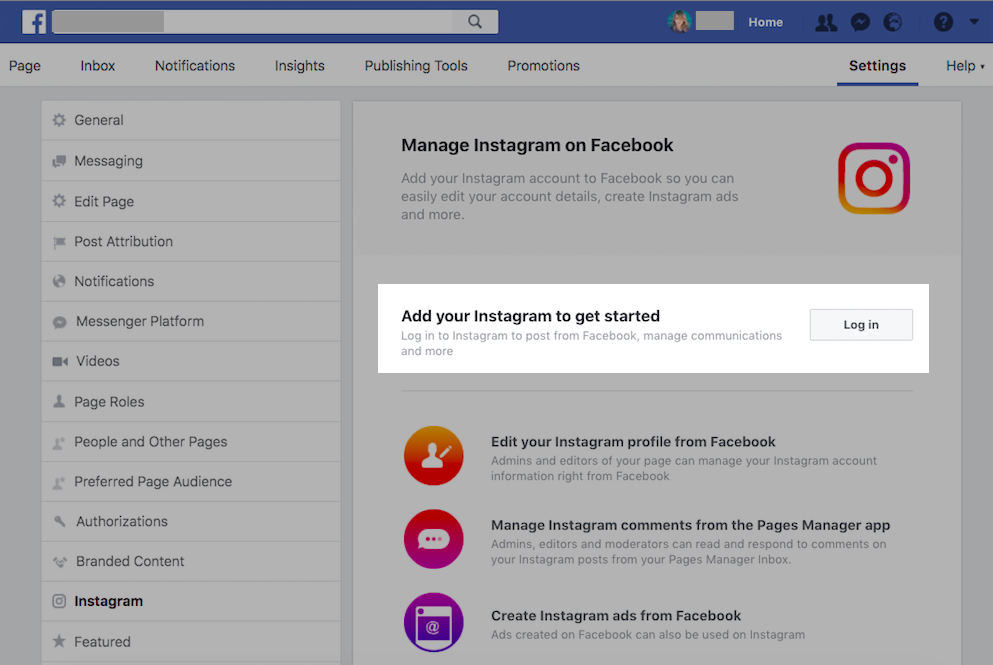 Once complete, Instagram will review your account. According to Instagram, processing time varies from a few hours to a few weeks. Please note you may not access the Shoppable Posts feature until Instagram verifies your account.
When you return to the
Sell on Instagram page
in your Ecwid Control Panel, you may notice the button still says
Connect to Instagram
. Don't worry!!
:) This doesn't mean that you have incorrectly connected your Facebook profile and Instagram account.
The Connect to Instagram button may remain in your Control Panel. Just make sure:
you see your Instagram account details at Facebook page → Settings → Instagram;
your Instagram profile is a business profile. Your Business Type will be listed directly under the name of your account and Email, Directions, or Call buttons on your Instagram profile page.
After confirming your Instagram account is properly connected to your Facebook page, wait for Instagram to approve your account for the Shopping feature.
As soon as your account is approved, you'll receive a notification from Instagram that you can turn on the product tagging feature in your Instagram app.
Enable product tagging for Instagram
Once your account is approved for product tagging, you may enable the feature in Instagram:
Go to your Profile.
Tap the Get Started alert at the top of your profile.
If you don't see the alert, go to Settings.
Tap Shopping and Continue.
Select a product catalogue to connect to your business profile and tap Done.
If you can't find Shopping under Business Settings in Instagram, your account is probably still under review. If your account hasn't been approved for the product tagging feature, please make sure you have fulfilled all the requirements for getting access to the product tagging and wait a bit more.
Tag your products in Instagram
Once you have enabled the Shopping feature on Instagram, you may tag products in your Instagram posts. You can tag up to 5 products per single-image post or 20 products per carousel. You can even tag products in posts through your Instagram history.
If your products have variations like sizes or colours, Instagram counts each product variant (e.g., size or color options) as a separate item. Don't be alarmed if the total number of products in your Instagram catalogue exceeds the number of products in your Facebook Shop.
When you select a photo for the post, add filters and a caption:
Tap the products in the photo that you want to tag.
Enter the names of the products you want to tag.
Select them as they appear in the search box.
Tap Done and share your post.
Instagram will review your product tags to make sure they comply with Instagram's commerce policies. The review process usually takes a few seconds, but sometimes Instagram takes more time to check the product in detail.
Tags under review are marked as Pending. These tags will be visible as soon as they are approved by Instagram.
If you delete a product from your catalogue or the product runs out of stock, the associated tag will be removed from all posts where it was featured. Please take note, this product tag won't reappear when the product comes back in stock.